Legal practitioners in ancient China were known as 訟師 or 狀師.
One of their key roles is to prepare the complaint or grievance (the legal document required to commence a lawsuit). This was because most people were illiterate and did not know how to write a proper complaint. Thus, they needed to rely on lawyers to help them.
However, lawyers in ancient China were not as well-respected as they are today. Many were scholars that had been unsuccessful in the imperial examinations. Government officials despised lawyers because they felt lawyers created an excess amount of cases and prolonged court proceedings. Laws were put in place to punish lawyers who tried to convince citizens to file frivolous lawsuits.
During the Qing Dynasty, there were the four famous lawyers in Guangdong (廣東四大狀師). They are:
Chan Mung Gut
(陳夢吉): He is the most well-known because of the stories of him passed on by later generations. Many stories tell of how he helped the poor seek justice against the rich and powerful. He was given the nickname "King of Ruses" (扭計祖宗) for his brilliant tactics in court.
The young Chan Mung Gut (Jordan Chan in Word Twisters' Adventure)
The old Chan Mung Gut (Henry Lee in Return of the Silver Tongue)
Fong Tong Kan
(方唐鏡): He was the rival of Chan Mung Gut and often portrayed as the antagonist in stories. The stories paint him as an arrogant and greedy man who took bribes from the affluent to oppress the poor. He was nicknamed "Adviser of Ruses" (扭計師爺).
The young Fong Tong Kan (Michael Tse in Word Twisters' Adventure)
The old Fong Tong Kan (KK Cheung in Return of the Silver Tongue)
Lau Wah Dong
(劉華東): He was renowned for his powerful writings. It is said that he once wrote a grievance that made the governor immediately repeal a law that oppressed the local businesses. Lau is also known within Chinese opera circles as the author of the play "Six Nations Install a Prime Minister" (六國大封相).
Ho Dam Yu
(何淡如): He was a teacher that liked to help people with their legal problems. He is famous for his interesting teaching methods and humorous poems that did not follow traditional styles.
There is another well-known lawyer –
Sung Sai Kit
(宋世傑). He is a fictional character from Chinese plays. He began as a court scribe, but was fired because the corrupt government officials did not like his honesty. He goes on to help poor citizens fight against wealthy bullies. Sung Sai Kit was originally a Ming Dynasty character. However,there was a real person with the same name that lived during the Qing Dynasty. Many people confused the two and eventually, the lawyer Sung Sai Kit turned into a Qing Dynasty character.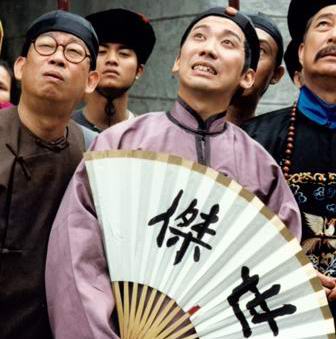 Sung Sai Kit (Cheung Tat Ming in Justice Sung)